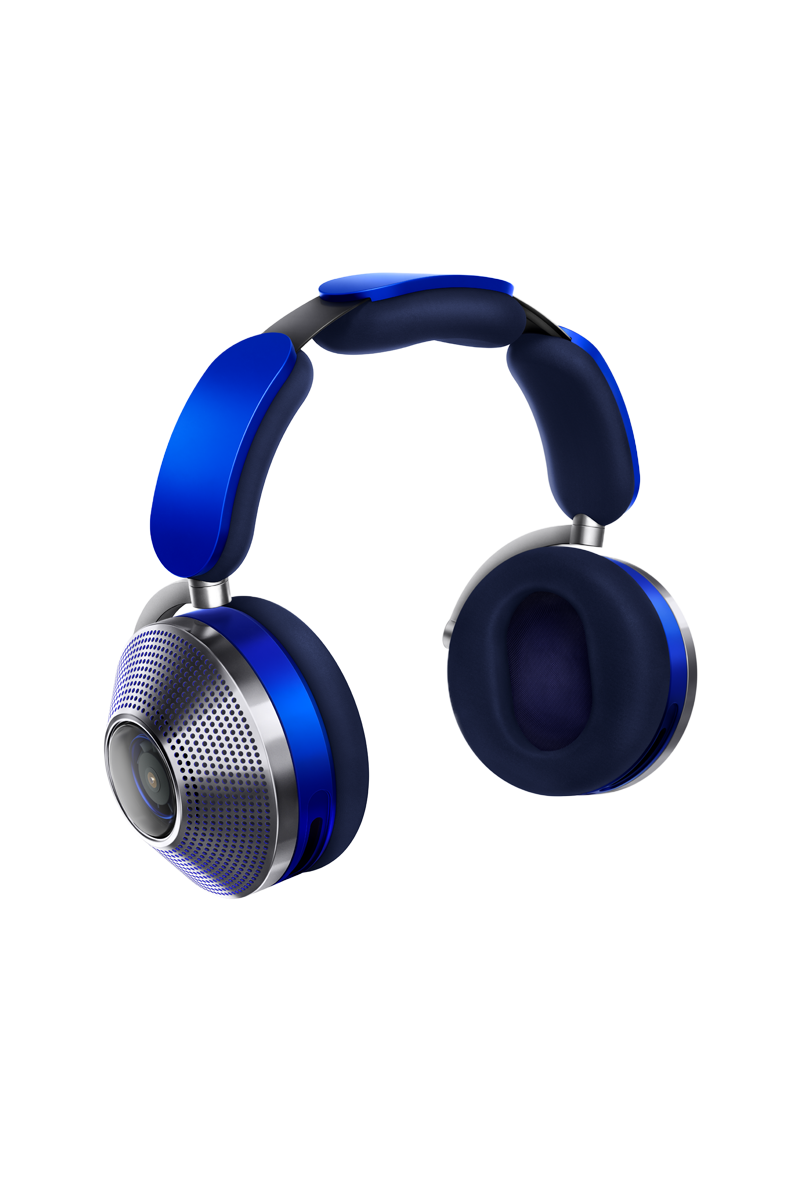 Only at Dyson
Dyson Zone™ noise cancelling headphones (Ultra Blue/Prussian Blue)
Pay in 12 monthly instalments AED242/month with 0% interest*. Available at checkout.
Dyson Zone™ noise cancelling headphones (Ultra Blue/Prussian Blue)
Pure Dyson audio with advanced noise cancellation. Engineered for ultra-low distortion.
Filters remove viruses1, gases2 and 99% of pollutants as small as 0.1 microns3
Contact-free visor, attaches to channel purified air
Connect to the MyDyson™ app for real-time environment updates
Dyson Zone™ noise cancelling headphones specifications
View the full technical specifications here.
Technology
Engineered for ultra-low distortion

Intelligent signal processing combined with active noise cancellation and passive attenuation reduces distortion – ensuring realistic, detailed audio.

Advanced noise cancelling

Eight active noise cancelling microphones monitor surrounding noise 384,000 times a second, cancelling background noise. With two additional microphones for telephony and transparency systems.

Purified air, anywhere

Electrostatic filters capture viruses1 and 99% of ultrafine particulates.3 Activated carbon filters remove fumes such as nitrogen dioxide2 and reduce odours.

Contact-free visor supplies purified air

It channels a continuous stream of purified air to your nose and mouth, without touching your face. For hygienic air delivery and comfortable breathing.
Image is for illustration of airflow only.
Features
50 hours audio only run time

Up to 50 hours ANC audio only, or up to 4 hours purification4 + ANC audio. Auto on-off to save energy when not in use.

Connects for a richer experience

Track your air quality, adjust EQ levels, and monitor battery and filter life with the MyDyson app.5

Auto-adjusts to your activity level

Built-in accelerometer adjusts airflow for changes in your activity level.

Engineered for comfort

Soft cushioned, micro-suede lined ear cups seal in sound and seal out noise. Headband and contact-free visor adjusts for a comfortable fit.

Touch and voice control

Bluetooth connectivity and fingertip controls let you call hands-free, access your voice assistant, and manage sounds and airflow on the move.

Magnetic visor

Easily detaches and reattaches for cleaning and headphones-only use.

Crystal-clear calls

Beamforming and noise-cancelling microphones enable clear calls in noisy environments.

Conversation mode

Visor flips down for Conversation mode, instantly pausing audio and airflow.
Maintenance
A little routine maintenance keeps your headphones with air purification performing as they should.
Attachable contact-free visor

Your visor is engineered to be easily wiped clean with a damp cloth. Leave to dry before re-attaching.

Filter replacement

The MyDyson™ app displays remaining filter life, and notifies you when they need replacing.5 This varies depending on air quality. A pulsing pink LED on the ear cup also shows when it's time to replace the filters.
Frequently asked questions
Dyson Zone™ headphones can be fully charged in just 3 hours. And you can still use the headphones for audio and air purification while charging.
The headband can be adjusted for best fit. The Dyson Zone™ headphones have been relentlessly tested in development for different head and face geometries.
The three ANC modes are Isolation mode, Conversation mode and Transparency mode. Isolation mode provides the highest level of active noise cancellation to deliver a rich, immersive audio experience – for example when you might need to concentrate on the task at hand. Conversation mode automatically activates when you dip the visor – turning purification off to conserve battery power and amplify the conversation. Transparency mode enables greater awareness of your surroundings, by boosting audio frequencies so you can hear while wearing the product
The lifetime of your filters will depend on the level of air pollution they are exposed to. Your MyDyson™ app will let you know when your filters need changing.
The auto on/off function works by placing the machine into an idle state when removed by the user, to conserve energy. When using the idle function, the headphones will still use battery power and if left for long periods will need charging as the battery will be low. To take the noise cancelling headphones out of idle mode simply place them back onto your head.
Only at Dyson
Exclusive technology from Dyson
Technology only available direct from Dyson. With exclusive machines, colours and tools.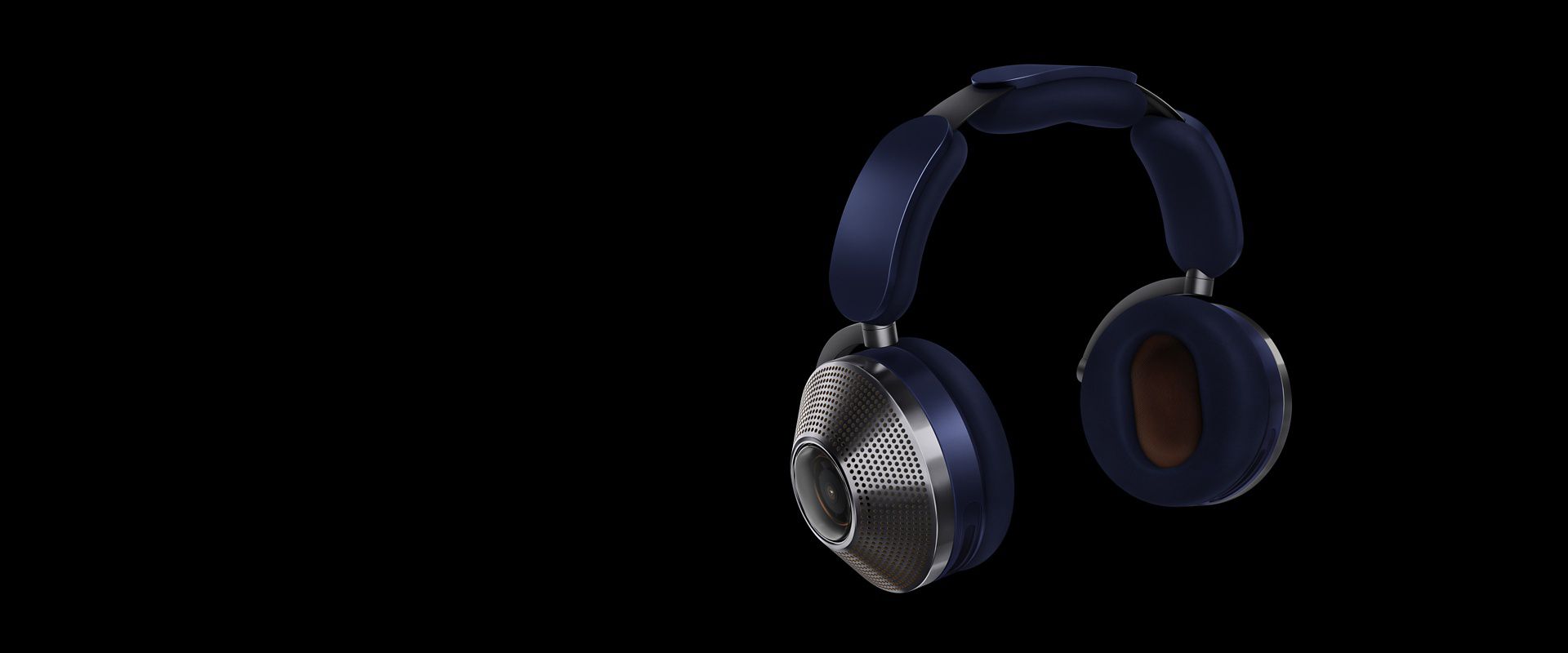 Specifications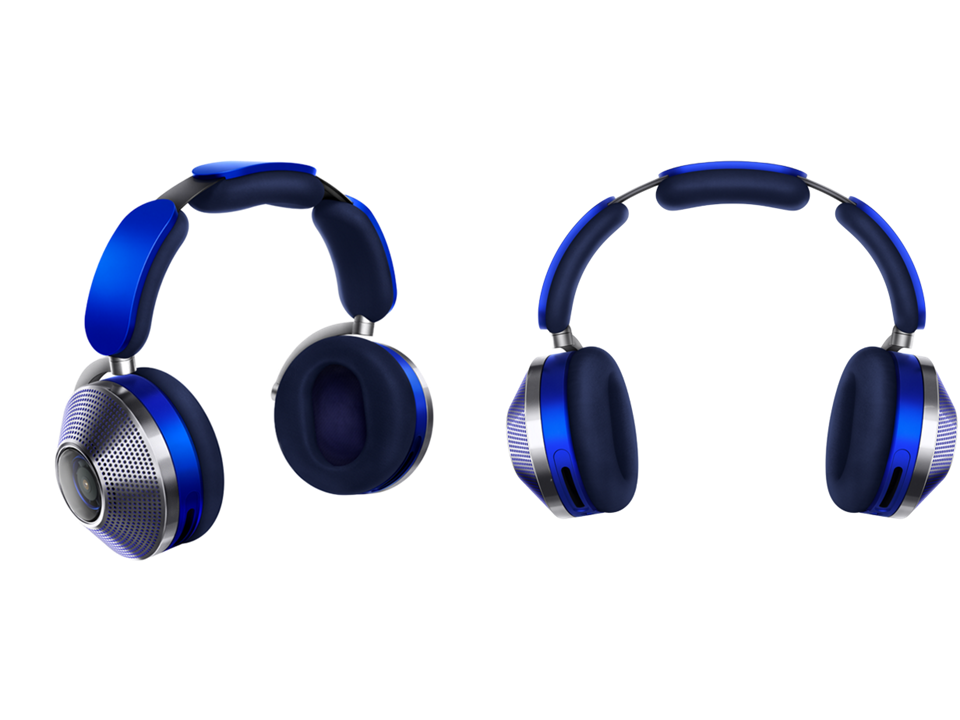 Only at Dyson
High-fidelity audio with active noise cancelling
Contact-free visor channels purified air to your nose and mouth
Only at Dyson
High-fidelity audio with active noise cancelling
Contact-free visor channels purified air to your nose and mouth
1 Filters tested against the viruses influenza A (H1N1) and MS-2 bacteriophage by independent third-party laboratory. Filters not tested with coronavirus. Tests showed removal of viruses >99.9%. Real-life efficacy may vary depending on usage conditions.
2 Filter tested in an external lab (NO2, SO2, Ozone) in a laboratory setting (3m³ chamber at 23C and 50% RH) at max air flow setting. Capture rates may differ depending on real life usage.
3 Filter efficiency tested to ISO 29463 adapted at max flow setting by an independent third-party laboratory. Capture rates may differ depending on real life usage.
4 In low flow mode with Bluetooth on. Tested in a Dyson internal laboratory at 21 degrees Celsius. Performance may vary depending on environmental conditions and usage.
5 App functionality requires a data connection. Standard data and messaging rates may apply. Your mobile device must have Bluetooth™ [4.0] support for telephony connection. For iOS or Android version compatibility please check Dyson website.
6 Community is not a medical face mask and is not intended to be used as personal protective equipment (PPE).
Image is for illustration of airflow only.