Pure relief from the heat.

14 day money back guarantee
Free 2 day shipping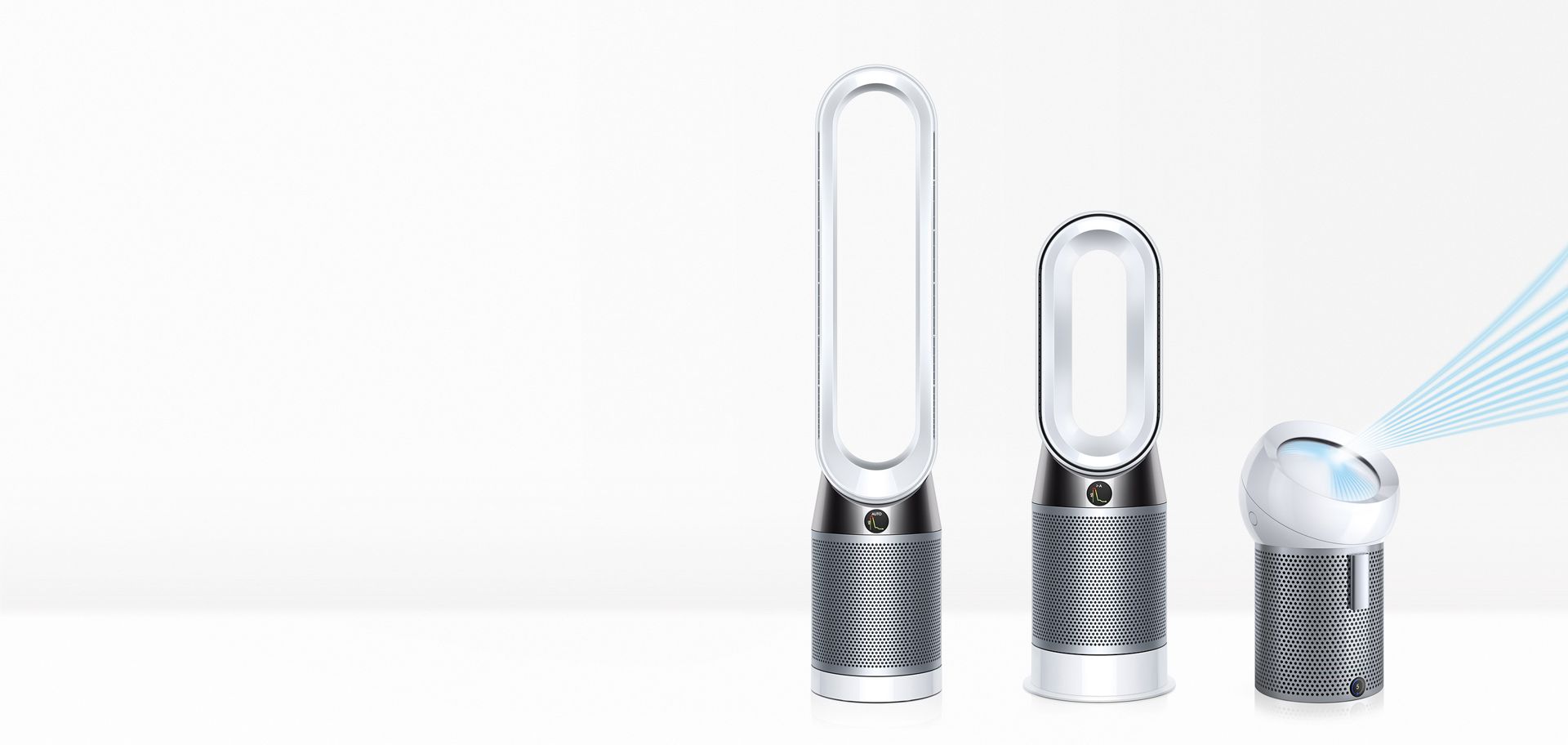 Senses

The only air purifier that automatically senses and displays 4 different pollutants - PM2.5, PM10, VOCs, NO2²

Captures

The only air purifier with vacuum-sealed 360° H-13 Glass HEPA and activated carbon filters²

Projects and heats

The only air purifier with Air Multiplier™ technology and customizable 350° oscillation²

Real data, real time

Smart control with the Dyson Link app. Alexa enabled.
Whole-room purifying fan

Senses and displays real-time air quality

Captures particles as small as allergens and viruses, for a healthier home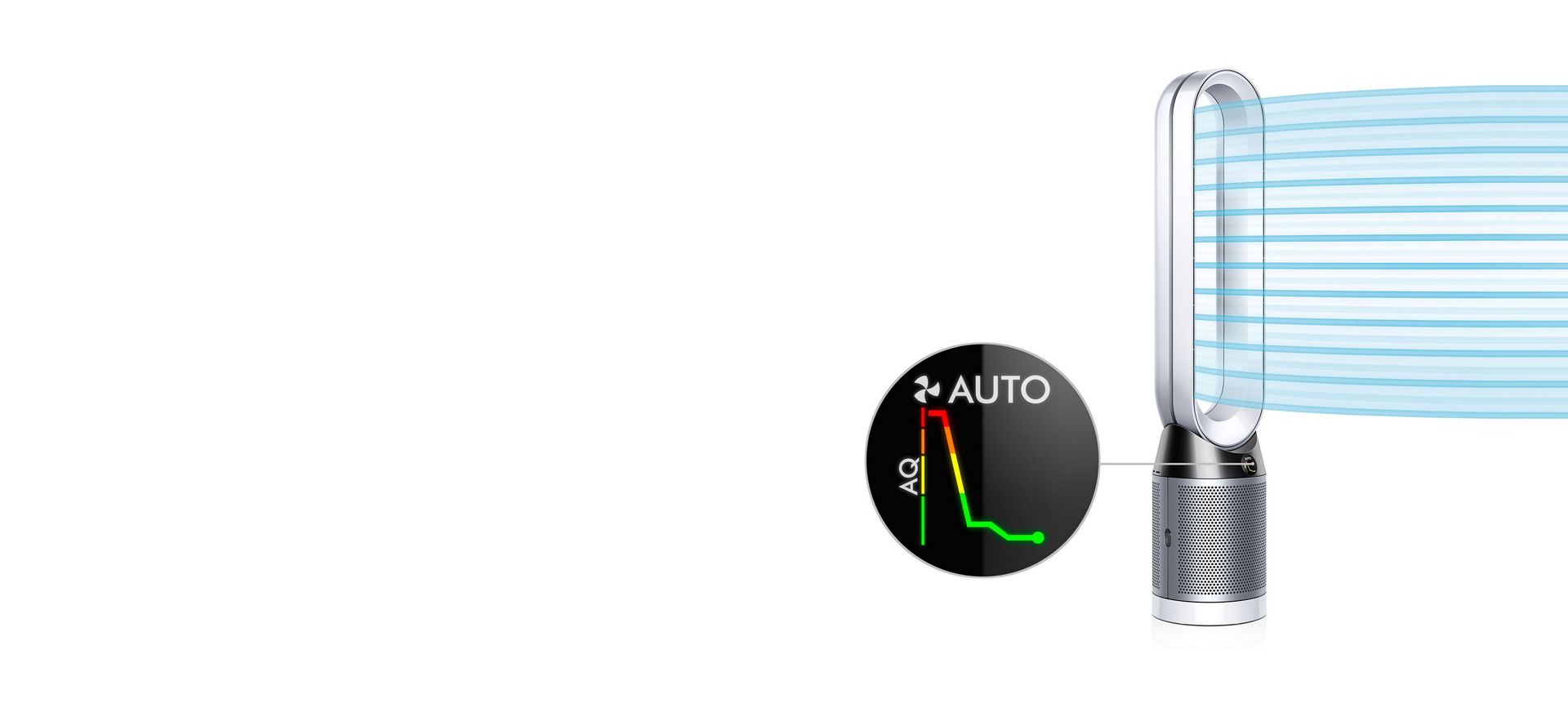 Dyson air purifiers are certified asthma and allergy friendly™ by Allergy Standards Limited

The certification mark is only awarded to products that specifically reduce or remove allergens from the home.

All Dyson air purifiers are Alexa enabled

From increasing the airflow speed setting to turning on Night-time mode, just use simple, spoken instructions to control your machine.
Frequently asked questions
This Dyson air purifier redefines air purification. We set a new standard by going beyond conventional purifiers to solve problems that others have ignored.

Sensors
In real life, the only way to truly know how well an air purifier is working is to monitor the air quality. Dyson Pure CoolTM air purifiers have a unique algorithm that processes the input from three on-product sensors. Each sensor constantly monitors the air for particles, gases, temperature and humidity. When pollutants are detected, the air purifier (in auto mode) automatically reacts and adjusts the purifying settings to counteract the pollution and maintain the target air quality.

Reporting
The Dyson air purifier reports real time air quality data via the LCD screen on the air purifier and also via the Dyson Link app so users can access this remotely if needed. It reports on indoor air quality graph, PM 2.5, PM 10, NO2, VOCs, indoor temperature, indoor humidity, filter life and Wi-fi in the same order as mentioned.

Filtration
The 360° sealed filter is engineered to draw in air from all around the circumference of the air purifier. This allows for free positioning of the air purifier in the room. The filtration system is made up of two separate filters – a particulate HEPA filter and an activated carbon filter. 9m of borosilicate microfibers, pleated over 200 times, make up our high grade HEPA filter (H13-A). Within the carbon filter, the carbon granules now have a greater surface area, compared to earlier generations, to help capture more gases including Formaldehyde, Benzene and NO2.
By sealing the filters within the air purifier, air can only pass through the filters, not around them, so more particles can be captured in the first pass. This allows Dyson air purifiers to capture 99.95% of particles as small as 0.1 microns2.

Air MultiplierTM Technology
Dyson air purifiers use Air MultiplierTM technology to project purified air, while oscillating 350° for even coverage across the whole room1. The oscillation angle can also be customised via the Dyson Link app or onboard LCD screen to switch between personal cooling or around the whole room. Another benefit of this is that users can purify the whole room without having to reposition their air purifier.
Air MultiplierTM technology works by drawing in air through the filter via an energy-efficient, brushless motor. After passing through the two layers of the filter, the air is pressurised through the loop in the multiplier and exits as a high velocity jet, creating an area of low pressure that draws in air from behind the air purifier. As the jet of air leaves the front of the multiplier, more air is drawn in from the surroundings, amplifying the initial airflow even further. However, Dyson engineers have developed Air MultiplierTM technology further - by reducing the surface area that airflow covers and no longer turning the airflow through 180°, frictional losses are reduced and the system is more efficient than the previous generation.

Heating functionality
The Dyson Pure Hot+CoolTM air purifier can be used all year round - it is able to purify continuously and heat your room at the same time during winters.
Self-regulating ceramic plates are positioned at the front of the amp, to heat the air as it leaves the air purifier. As the plates heat up, they conduct less electricity to help ensure they don't overheat. With thermostat control, once your target temperature is reached, the air purifier automatically stops heating, which saves energy. If the temperature starts to drop, it reactivates to maintain it.

1. Tested to Dyson internal test method TM-003711 in a 27m2 room. 'Harmful' / 'Ultrafine' pollutants refers to airborne particles as small as 0.1 microns (tested to EN1822).
2. Tested to GB/T18801 (formaldehyde, benzene). Gaseous capture rates vary. Tested to EN1822 - airborne particles as small as 0.1 microns.
Some manufacturers of conventional air purifiers gauge the performance of their products using a laboratory test method called 'Clean Air Delivery Rate,' (CADR). When Dyson engineers looked further into the CADR test, they noticed it had several shortcomings, including testing in a small test chamber with a built-in fan to circulate the air and only one sensor to measure air quality. Also, CADR doesn't take into account ultrafine particles as small as 0.1 microns passing through filters that aren't sealed – this means that these pollutants can pass through an air purifier many times without being captured.

Our observations in the field show that most people sit away from their air purifiers and don't use mixing fans. So, to replicate these conditions, Dyson engineers tested conventional air purifiers in larger rooms with no mixing fan and used multiple sensors to measure the air quality across the whole room1. We found that some air purifiers are only able to purify the air around the air purifier, creating a "clean air bubble", while areas in a room further away from the air purifier can remain polluted. We have concluded two things. Firstly, the calculation of CADR room size is unrealistic. Secondly, Dyson air purifiers are designed for real life homes. Only a purifier with fan functionality is capable of properly circulating the air to achieve whole room air purification1. Dyson air purifiers combine Air MultiplierTM technology with 350° oscillation to achieve this. Our sensors are able to detect pollution events automatically. Lastly, the filters are vacuum sealed within the machine so that 99.95% of particles as small as 0.1 microns are captured on the first pass2. All this means that the Dyson Pure CoolTM air purifier automatically cleans a whole room properly1.

The AHAM AC1-2015 standard sets out how air cleaner manufacturers can define their performance by "the relative reduction of particulate matter suspended in the air in a specified test chamber". This means their performance is based on cleaning efficiency rates only. We design our air purifiers to go beyond test chamber conditions and focus on real home conditions – this is more than just having an efficient filter. When Dyson engineers set out to design an air purifier, their research concluded that to clean a whole room properly, you also need to sense pollution events automatically; capture ultrafine pollutants; and project cleaner air around the room using Air MultiplierTM technology. The Dyson air purifier is designed and tested to do all of this1.

1. Tested to Dyson internal test method TM-003711 in a 27m2 room. 'Harmful' / 'Ultrafine' pollutants refers to airborne particles as small as 0.1 microns (tested to EN1822).
2. Tested to GB/T18801 (formaldehyde, benzene). Gaseous capture rates vary. Tested to EN1822 - airborne particles as small as 0.1 microns.
Particles are tiny fragments such as pollen and smoke that are lightweight enough to be airborne. Dyson air purifiers have the ability to detect such particulates in the air using its sensors. It captures these by trapping them in the fibres of its particulate H-13 HEPA filter. VOCs (Volatile Organic Compounds) are gaseous chemical compounds, both man-made and naturally occurring, including fumes and toxins. A range of VOCs are neutralised when they react with the layer of activated carbon filter.

This table details some of the particulates and gases that can be found in the air and their approximate sizes:

| 0.1 microns | 1 Micron | 2 micron | 5 micron | 10 micron |
| --- | --- | --- | --- | --- |
| Ultrafine Particles | Odours | Industrial Emissions | Bacteria | Pollens |
| Carbon dust | Toxic fumes | Incsecticide dust | Mould spores | Allergens |
| Coal fuel gases | Cooking oil smoke | Liquid bacteria | Cement dust | Fertilisers |
| Tobacco smoke | Asbestos | Paint pigments | Coal dust | Spores |
| | Insulation fibreglass | | Antiperspirant | Textile fibres |
These are representative sizes but the actual size of each may vary.
The Dyson range of air purifiers operate at a variable wattage reading depending on the fan speed for circulation - ranging from 7 to 40 watts. (On purification mode)

Additionally, the air purifier has Auto mode. When set to Auto mode, the air purifier intelligently selects the most efficient airflow to combat indoor air pollution. When it reaches the target air quality, the air purifier will slowly reduce the airflow (instead of simply switching off) to maintain this target level. It then switches to idle mode, where the air purifier is still monitoring and reporting, but using minimal airflow.
The area covered by an air purifier can vary. The bigger the room, the longer an air purifier takes to purify the air. The Dyson Pure CoolTM air purifier, purifies a room and automatically detects when the room is clean. It will also detect when pollution events begin using a Dyson development algorithm to keep indoor air quality in check.

An air purifier is designed to efficiently work in a restricted space, hence it would work efficiently for a single room. The Dyson air purifiers are light and can be easily moved within rooms, if needed.
There is no restricted time to run an air purifier. For a better purification you can run it all throughout the day. The Dyson air purifiers have an auto mode that will keep sensing the pollutants and increase/decrease its ability to purify. This will reduce your energy consumption and keep your house purified all throughout the day.
The Dyson air purifiers are acoustically designed to follow the updated GBT standard. The machine is therefore engineered to be as quiet as possible, with streamlined air channels for reduced airflow turbulence. It has a high sound quality that produces a comfortable tone for the human ear without a compromise of performance. At minimum setting, the noise is almost inaudible to the human ear. All Dyson air purifiers are also 'Quietmark' certified.
The filters for your Dyson purifier would need to be changed after 12 months, based on 12 hours use a day5.

5. Based on 12 hours use per day. Filter life will vary according to pollution levels.
Still unsure about which air purifier to buy?
To experience Dyson air purifiers from the comfort of your home, book a free demonstration with a Dyson Expert.